Hosted Voice (also known as Hosted Private Branch Exchange or HPBX) is a comprehensive, scalable end-to-end Voice over IP solution for your business whether you have five or five hundred phones. With no expensive hardware to purchase and the ability to add multiple seats per line, it also provides an incredible value as your phone system grows with you. Built on the backbone of the VTel fiber network, our Hosted Voice delivers a powerful and reliable service. VTel hosts and maintains your phone system, so you are all taken care of while you are taking care of business.
How it works
Hosted Voice is delivered entirely over IP. VTel handles switching for as many lines and seats as your business needs.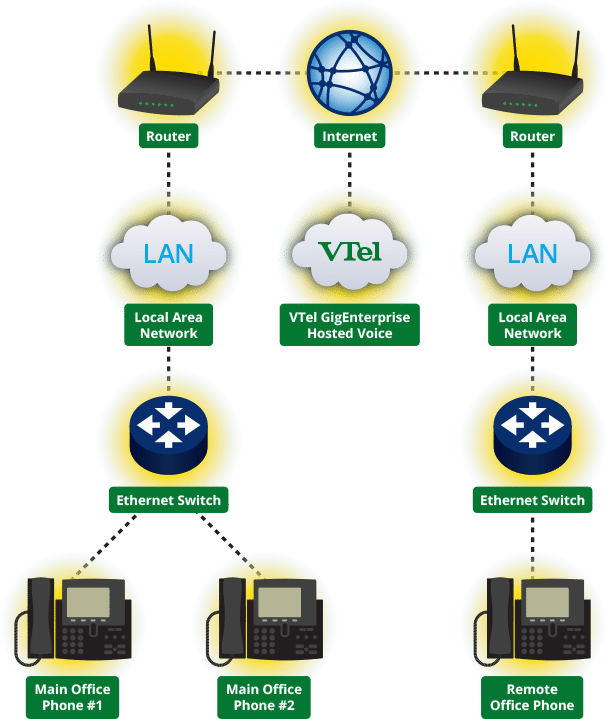 Advantages
Low Cost of Entry – No expensive equipment to buy or replace, surpassing the need for a legacy key or PBX system
Scalability – You can easily add or remove seats or lines to the system as you go (and grow!)
Convenience – Upgrades and improvements to the system are managed by VTel, keeping you ahead of the curve automatically
Functionality– Get all the great VoIP features like call forwarding, find me/follow me call routing, call screening, voicemail to email transcription, and more, all easily accessed and managed on your desktop or mobile with a powerful, yet simple software interface.
Simplicity – Telephony functions for numerous sites are consolidated into one place.
Sign Up!
Contact us to receive these services:

• Call us at (802) 885-9000
• Email us at info@vermontel.com
• Send a message through our easy-to-use contact form