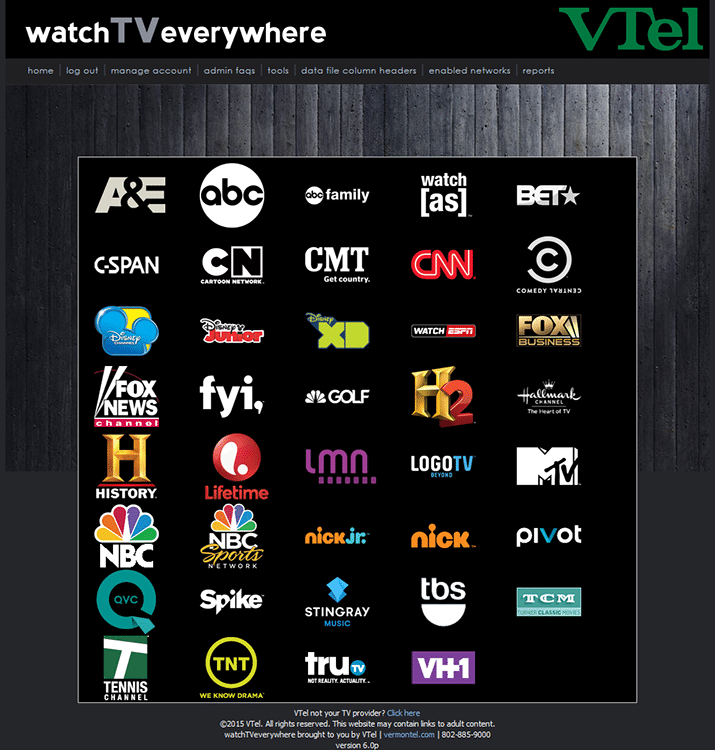 What is watchTVeverywhere?
watchTVeverywhere is a FREE bonus service for VTelevision subscribers where you can watch select network content on any device including a smartphone, tablet, or desktop over an Internet connection.
How do I sign up?


Go to the watchTVeverywhere site at www.vtel.tv.
Select "VTel" from the TV provider list.
Click "register" to create your account. You will need your VTel account number, which can be found on your bill.
After your account is created, you can log in using your email address and password to access watchTVeverywhere. (Remember that this login is unique from the one for your VTel email or Data Barn accounts.)
A few things to keep in mind:


Only channels that you subscribe to over VTelevision may be accessible over watchTVeverywhere…
…However, not all of the networks that you subscribe to are available on watchTVeverywhere. That is because of the networks and their decisions, not VTel.
If you're streaming over a wireless data plan, you are still subject to those data plan charges in addition to the VTelevision service.
Enjoy!
Sign Up!
Contact us to receive these services:

• Call us at (802) 885-9000
• Email us at info@vermontel.com
• Send a message through our easy-to-use contact form